For its debut exhibition, 'Leaping the Fence' at Hestercombe gallery we saw shovels, rafts, a man walking up an escalator, neon signs and Dickensian style pilgrimages from London to Dover. Almost a year on and the private view of the Ingram Collection of Modern British and Contemporary Art currently on show at Taunton's Hestercombe Gallery was altogether a much more grounded experience. The exhibition titled 'A Personal Passion' showcases the 'artistic passions' of art collector Chris Ingram and opened to the public on the 25

th

April. Amongst others it features the works of Kenneth Armitage, Frank Auerbach, John Bellany, Reg Butler, Anthony Caro, Lynn Chadwick, Suki Chan, Aleah Chapin, Ken Currie, Jacob Epstein, Elisabeth Frink, Terry Frost, Peter Howson and RB Kitaj. It is an impressive sounding line-up failing only slightly victim of its own breadth of artists on offer by being at times quite bitty. In the Hestercombe exhibition this is helped by the work being grouped together by connecting themes such as portraiture, religion, place, sea etc. Most of the work is dated somewhere in that 'middle to modern' art history dating from roughly the 1860s to the 1970s with the inclusion of several more contemporary pieces by artists such as Aleah Chaplin and Suki Chan.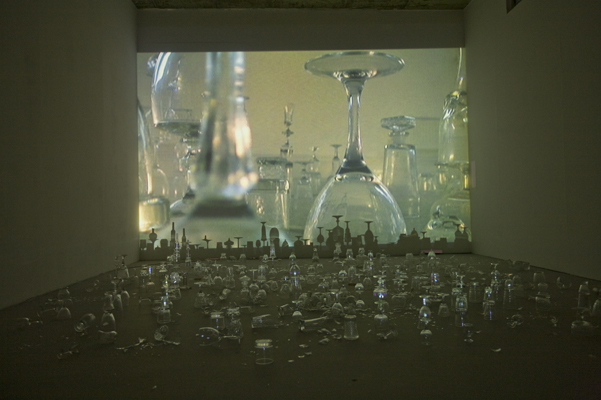 Suki Chan 'Tomorrow is our permanent address' (2008) Video Installation.
Chan's addition to the Ingram collection is particularly interesting as it provides a contrast in highlighting some of the various practical challenges met in collecting contemporary art. Chan's work, 'Tomorrow is our permanent address' is an installation consisting of a video projection and both stacked and broken ornate drinking glasses. Where once 'collecting art' was limited to prints, framed paintings/drawings and bronze sculpture it has since radically evolved in keeping with the progression of art to include work that can be temporary, contextual, ready-made accidental or in a wide range of sizes and mediums than ever before. The storing, preserving and installing of such work posing new tests to both collector and curator. I'm grateful as a member of the public to be able to see these works and that in 'collecting' them Chris Ingram is preserving them for future public enjoyment but still at the same time the nature of collecting and commodification of art in this way has always slightly bothered me giving a false sense of 'importance' or cultural value to the work that it may not have otherwise. It is one of many contradictions in the art world that doesn't always sit so comfortably well with the making of it. Conversely the collection does present the pleasures in buying/owning and sharing art in the company of others, I just don't necessarily think that work has to be 'rare' or 'expensive' in order to have that affect. I'm interested in the decision making, when buying art shifts from personal interest/meaning to status symbol or investment and am still somewhat diplomatically undecided where the Ingram collection fits. Perhaps if I saw more collectors buying more work at graduate shows outside London then I'd be less sceptical?
John Bellany 'Aurora' (1980) Oil on canvas.
On the whole, 'A Personal Passion' fell a bit flat for me although it was a real eye-opener of just
how my personal taste and understanding of art has evolved into enjoying either contemporary art or the extremely old of the likes of the frescos and Renaissance work I'd experienced for the first time recently. Whilst there is more than I could ever hope to learn, all the stuff in the middle feels more familiar, it was the work that first ignited my interest in art and doesn't yet quite hold a place in my memory to warrent much nostalgia. By familiar I suppose I mean that even if its work I haven't seen, the intent behind it and place the work sits in art history is more familiar. There are a few exceptions, seeing what I think may have been my first John Bellany painting in the flesh, learning of Irish artist Padraig Macmiadhachain (who moved to Dorset and St Ives who creates very Cornish seascape style paintings) and Frank Auerbach and Jacob Epstein drawings instead of their painting/sculpture retrospectively.

I could also see this exhibition being one of the more popular of recent exhibitions at Hestercombe simply because it is more middle-ground compared its past bolder/challenging exhibitions. Bronze heads wearing sunglasses, depictions of nudes in pencil and oils, seascapes bordering on the abstract, landscapes and plinth-bound bronzes are what I think a general consensus of people would 'expect' to see in a modern art exhibition(?). Cynically it also makes me wonder what I've seen in my relatively few years to think a giant 8ft head sculpture is middle ground, but then in the bigger picture of art those sort of things have in a way (rightly or wrongly) become familiar. A dangerous game to make such generalizations I know, but 'A Personal Passion' meets expectations of what it advertises and in doing so is one of the more easily accessible exhibitions to have yet taken place at Hestercombe. For me, as I said before, that also makes it one of the dullest, but reaffirmed my own understanding of why I preferred exhibitions like Tania Kovats' 'Oceans'. If last year we were 'leaping the fence', this one sadly opted for sitting on it, but at least it is a break from which we can stop and take some time to admire the view.
'A Personal Passion' can be seen at Hestercombe Gallery until the 5

th

of July 2015: