Given the influence his work has had on drawing and the depiction of the human form it is hard to imagine the Austrian artist, Egon Schiele [1890-1918] was only twenty-eight when he died of Spanish flu. Seeing the first museum exhibition of his work shown in the UK for twenty years at the Courtauld in London you get a seldom seen sense of just how prolific Schiele was (there are 38 works in total), an insight into why his work was so significantly controversial for its time and why it is still relevant and influential today.
Ironically, myself also soon approaching the ripe old age of twenty-eight (and sincerely hoping not to be struck down with a case of Spanish flu!) it seemed like the opportune time to be inspired by some Schiele in person.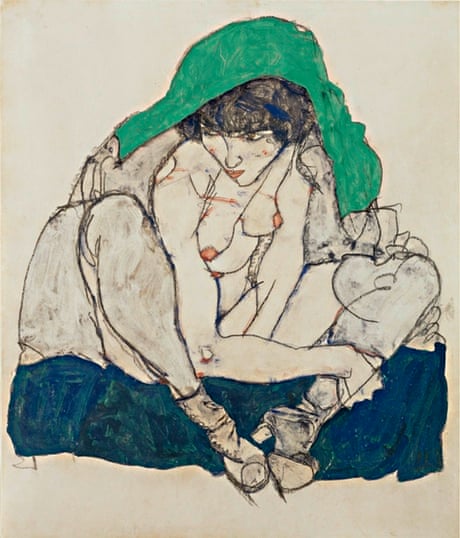 'Crouching woman with green headscarf' (1914) Gouache and pencil, 47 x 31cm.
Schiele's drawings are punchy, nude full body portraits of women, himself and his lovers, family, cohorts are often depicted in uncomfortable awkward poses, limbs/hands often exaggerated or contorted at unusual angles, the backgrounds bare so as to make sure the subject receives full attention. They are explicit 'everything' is literally on show and in some cases, pornographic or as one commentator explained, "Erotic representations without erotic content." (if you can comprehend such a thing, then this is actually quite an accurate way of putting it, I think!) Conversely, perhaps, in the expressive way in which they are drawn they also hold at times a tender anxiety that wavers between being confrontational, sensual and vulnerable all at the same time. Their daring controversy was not lost at the time they were produced with Schiele actually being imprisoned on 'public morality grounds'. He was radically ahead of his time and there is a lot that we could discuss and in fact most of what is written about Schiele deals with this debate of the eroticism and perceived opinions of explicitness and censorship in art and modern visual history...blah, blah, blah...
'Sneering Woman (Gertrude Schiele)' (1910) Gouache, watercolour and charcoal with white highlighting, 45 x 31.4cm.
BUT we're not interested in any of that are we? For the purposes of this blog post I'm personally focusing on the 'drawing' and not the subject matter of Schiele's work really in any way. In truth I went to the Schiele exhibition because I was fascinated to see how they 'worked', how they looked as drawings. If I need continue in my own art, I do my utmost to avoid people directly all together! I just don't find people that interesting (in the art sense). If there are 'people' or traces of them in my work they are present more metaphorically with tools or mark making or other referential symbolism. In essence it may be difficult to separate the drawing from the thing it is depicting or derived from as in the case of representational drawing like Schiele's but just how much do the two influence each if at all is something I am curious to find out.
'Nude self portrait in grey with open mouth' (1910) Gouache and black chalk, 43.8 x 30cm.
What I did find is that Schiele's figures and representation of the human form are very 'sculptural'; his self portraits are very angular, his nude female forms very heavily outlined, very 'solid' looking. Again, I think this is why I admired them as drawings because they were delivered very confidently, there are no rubbed out lines, all the workings are on show, layered and add to the sense of personality/character in the drawings (particularly in his self portraits). Although they never have the impression of being overworked and there is an immediate confidence and ferventness to capturing these people, these characters, these forms down on paper.

Perhaps like handwriting even whilst the artist himself isn't 'present' within the work, in the sense of being depicted you are always aware of his presence as the hand/the eyes the thinking person looking behind the work. In a slightly feminist way,ahead of its time these drawings have been analysed now as not having the gaze of the male voyeur but of, and I quote, 'a man who genuinely loves women'. Make of this what you will but for those sorts of reasons they do feel refreshingly honest, real, raw (delete as appropriate) as they are quite unflattering really, a lot of them but inadvertently become quite 'beautiful' in their honesty because of their unabashed, fleshy, bony, hairy, patchy coloured, blemished human openness. A quality in part echoed by the artists choice of using a brown paper surface to draw on the material a more disposable, immediate and everyday one than the preciousness of white paper or canvas surface.
'Fighter' (1913) Gouache and pencil, 48.8 x 32.2cm.
With Schiele's nudes there is a sense sometimes that the figures are merely a container, an outline in which to house and hang his mark making, stains, colour within (see above). An observation that recalls a similarity with the work of Jim Dine who would almost be a complete abstract expressionist for it not his use of motifs such as hearts, tools, plants or birds that aside from their symbolic qualities he sees them acting as formalistic devices in his words, 'something to hang the paint on'. I don't pay this connection of Dine to Schiele too much heed but other than the fact that it helps draw attention to just how diverse the variety of mark making approaches Schiele used in his drawings that perhaps are more easily overlooked in favour of the subject matter.
Needless to say it was an exciting exhibition. Schiele's drawings are as radical today as they were then, just in a different sense of the word that highlights them not for their difference, for their 'controversy' as they did then but for their ability to still hold your attention and be intently surprising. It was an intense, thoughtful and crucially for me, unsettling enough exhibition to make me think about my own drawing habits/techniques so as not to become lazy.
In a Spanish flu free scenario it would be intriguing to know what Schiele may have carried on to create next.... though one thing is for certain, his work assures he will never be forgotten.
What are you waiting for?!
Egon Schiele: The Radical Nude is still on at the Courtauld until January 18th!